Tehran - Shiraz – Yazd - Esfahan – Tehran
Flight to Tehran by Iran Air…… at …… Arrival and transfer to hotel.
---
Day 02: Tehran / Shiraz (Air)
Full day city tour of capital:
Visiting Iran Bastan museum (Archeological museum): Object from prehistoric period to Sassanian VIII th C. the potteries, cylinders, bone or stone made objects…
Sa'd Abâd palaces: once occupied by Qadjar dynasty, Sa'd Abâd was once again rebuilt and put to use by Pahlavi during the period of 1920 to 1976… Visiting Green palace (Kakh-e Sabz), and white palace (Kakh-e Mêlât).
Lunch in a traditional restaurant.
Crown Jewelry museum: a vast collection of jewelry with inestimable value. 
P.M. transfer to airport for flight to Shiraz at 20:30. Dinning in hotel.
---
Day 03: Shiraz / Persepolis / Shiraz (100 Km aller et retour)
Excursion to Persepolis.
Persepolis – capital of achemenains (518 B.C.):
This site of ruins was considered the capital of empire for 2 consecutive centuries. Visiting the entrance staircase of Persepolis; through the Gate of Nations, we have access to palaces of Darius, Xerxes and Artaxerxes, palace of hundred columns and Apadana.
300 meters of staircases with the walls decorated by bas-reliefs representing submitted countries peoples.
About 4 Km of Persepolis one of the most important achamanians and Sassanian sites in Iran. It was there, in the mountain Kuh e- Hossein that Darius the first and three of his successors have chosen for building their tombs upon it. Visiting Naqsh –e Rostam: visiting the tombs of four of the achemenains kings: Darius the 1st.  , Artaxerxes the 1st., Xerxès the 1st.,  and   Darius the 2nd.   
Lunch in a local restaurant: LANEH TOVUS.
Return to Shiraz at 14:00.
Visiting of Shiraz monuments:
Bagh-e –Narendjestân (Narendjestân garden) "is one of the most beautiful houses of Shiraz. Situated in a garden, it was reconstructed by one of Shiraz's aristocratic families of merchant class in 19th century…
Hafiz and Saadi mausoleums: lots of Iranians consider these monuments the most important landmarks across Shiraz.
Dinner in a traditional restaurant.
---
Day 04: Shiraz / Passargad / Abarkouh / Yazd (420 Km.)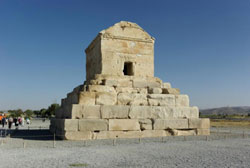 Departure to Yazd via:          
Passargad (75 Km. in the north of Persepolis). Visiting the Capital of achemenains dynasty founded by Cyrus The Great in 530 B.C. A simple death-bed chamber, built upon a six-staired pedastal; the tombe was contained by a huge garden during the achemenian rulership.
The inspiration for the architecture is still an open discussion: it is told that it may be inspired by the mainframe of Mesopotamian Ziggurats or Ourarturian on the other hand there are certain beliefs which give the credit to Greece or Anatolian for the mainframe of this specable landmark.
Lunch box.
Continuing by Abarkouh city, for visiting:
Friday Mosque
Sacred Cypres
Tours of refrigeration
Arrival Yazd about 19 :00.
Dinning at hotel.
---
Day 05: Yazd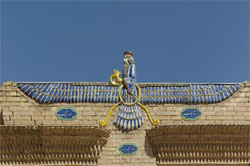 Full day city tour of Yazd:
Friday Mosque : the city's most important Islamic landmark, and one of the most beautiful mosques of Iran
Alexander's prison: an octagonal mausoleum, built on 1036-37.
12 Imam Mausolum (Maghbareh-ye Davazdah Emâm), built in the same period as the prison.
Traditional Bazar  of the city
Lunch in an ancient hammam, transformed into a traditional restaurant.
Fire temple (Atashkadeh): built on 1934, it's architecture is a combination of Iranian and European style.  The interior part of the Temple withholds a sacred Fire (can be viewed from the other side of a protective glass), which is now lit for 1500 years in a row.
The Towers of Silence: circular structures were used for Zoroastrian's funeral. The corpses was always considered unholy, therefore burring them caused the soil and all the living creatures to be tainted. So they used to leave the corpses up on the heights for the carnivore birds to rip the flesh from their body… afterwards they buried the bones underground.
The stone Mills of Hanna
Dinning in hotel.
---
Day 06: Yazd / Esfahân  (320 Km)
Continuing to Esfahân via:
Meibod city (poteries fabrication).
Mohammadieh village (known for the textile of desert)
In Nâin city, visiting of:  Friday Mosque, one of the most ancients mosques of Iran. Dated of Abbasside and bouyide of Xth century. The architecture is based on Arabic plan: court yard, without Eiwan…
Desert museum: a beautiful Safavides house from XVI th century, transformed to the anthropology museum.  
Lunch in Toursit Inn of Nâin. Arrival Esfahân arround 18 :00.
---
Day 07: Esfahân
Esfahân, pearl of Iran. Golden Domes with enamel covered septum: Esfahan, by the legends, is told to be shaped from an image of Paradise.
Exploring the city: Royal Ground, surrounded by Imam Mosque with aquatic minarets and Ali Qâpu palace with its 6 remarkable floors, Sheikh Lotfollah mosque;
PM. Lunch in a local restaurant Hani.
Friday Mosque: contains the most ancient relic of the city.  It is one of the most significant mosques of both Iran and Islamic art.
Haroun-e Velayât Mausoleum: built in the beginning of XVI th century, with facade decorated by the magnificent enameled mosaic…
Dinner in a traditional restaurant.
Followed by an interesting visit of Zourkhaneh, the home for Iranians traditional sport.
---
Day 08: Esfahân
Continuing the visit of Esfahân:
Armenian Jolfa quarter: researchers chase back the precedence of this quarter to the era of Shah Abbas the Great.  Vank cathedral symbolizes implantation of Armenian churches in Iran.  
33 Arcs Bridge: 160m long, built in 1602; this magnificent bridge connects the two quarters of Chahar Bagh St. and Armenians.
40 columned palace's (Tchehel Sotun) :located in a beautiful garden and built by Shah Abbas the Great the 1st  (1587-1629) ; the naming of this landmark has its own story to tell. The reason was that the shadows of the 20 standing coloumns were casted back to the viewer by the crystal clear water of the pool, making it 40 columns to count.  The columns also bear the weight of beautiful wooden roof, painted and decorated by beauteous inlaying work.
Leisure time for Bazaar, one of the most rich and colored of Iran.
Last night in Esfahan.
---
Day  09: Esfahan – Kashan -Tehran IKA airport(420 Km)
Departure to Tehran airport  via Natanz city:
Friday mosque: Built in 1304, rebuilt in 1325, by which its minaret was added to the complex. This stone-made one is alternatively decorated by brick and enamel…
Continuing to Abyaneh village.
Lunch in Kashan, and visiting:
Fine Garden: a famous royal garden from 16th century.
Sialk prehistoric hills: oasis of Kashan was residential by the end of the 6th millennium. As a proof to this statement, we can appoint to the Neolithic site of Tapeh Sialk, situated in the margin of actual city. This site was abandoned around 8th century B.C. Tapeh Sialk presents us remarkable ceramics, which allow us to trace the evolution of technique: first hand made, then by wheel and kiln…
Arrival to IKA Tehran airport at … end of our services.